Upcoming Retreats
by Marty

Posted on

January 19, 2019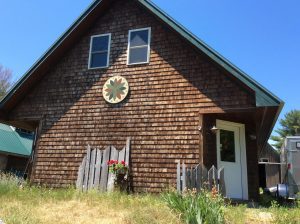 At our Weekend Retreats, we welcome you to accommodations in our rustic 1850s farmhouse. You can simply kick back and relax and also connect by helping with the chores. We serve family-style, home-cooked meals using farm-raised products and local products as much as possible.
Ample time is available to enjoy the animals, relax, knit or spin.
Yarn & Yoga
November 8-11, 2019
5pm Friday to noon Monday (Veterans Day)
Wendy Youmans, KYT offers 5 gentle yoga classes for a deeply relaxing experience…
Includes:
Abundant time for your favorite fiber art – spinning, knitting, felting and more…
Lodging at A Wrinkle in Thyme Farm,
Local food for 7 delicious home-cooked meals
5 Gentle Yoga classes designed for everyone
& ample time to spend as you like!
To register and for information about lodging & meals contact us at info@awrinkleinthymefarm or (207) 212-4058. A non-refundable $40 deposit required to hold your spot. Total cost of the weekend is $300.  For yoga questions please contact Wendy Youmans, certified Kripalu Yoga Teacher at yogawendy@gmail.com or call (207) 540-4602.
Felting Retreat
To be determined
Saturday am to noon Sunday
Plenty of time to become absorbed in more than one felting project, wet felting and needle felting. We will do a landscape background that is wet felted on Friday and embellish it with needle felting on Saturday. The farm store will be full of inspiration and materials.
Lodging and meals provided at A Wrinkle In Thyme Farm,
Share skills and meet the lambs that grow the wool we use to felt.
$250 for the weekend, with a $40 deposit required to hold your place.                 Register here or email for more information.
At our Weekend Retreats, we welcome you to accommodations in our rustic 1850s farmhouse. You can simply kick back and relax and also connect by helping with the chores. We serve family-style, home-cooked meals using farm-raised products and local products as much as possible. Ample time is available to enjoy the animals, relax, knit or spin.…