Thyme Tiles Kits make learning to needle felt fun, and offer needle felters' designs for a variety of uses. We have over 50 designs, and each kit has a pattern on 100% wool felt and all the colors of unspun wool needed to complete that design.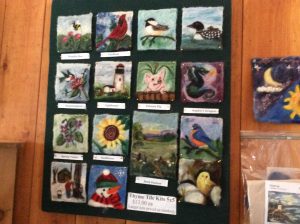 Small kits have a 5×5 design.  Larger  kits include 5×7, 6×6, 8×10 and a few larger ones.
The smaller completed projects can be used as a coaster, a framed piece of art, or as a pocket on a knitted garment of bag.
Supplies and tools For Needle Felting are available here in our farm store in Sumner, Maine, in our online shop, and on our Etsy store.
We offer a palette of individual roving balls in a range of colors available 3 for $1.00.  We offer 100% wool felt in various sizes for creating your own designs.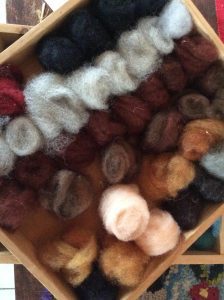 Tools for needle felting include basic needle felting kits, large needle felting kits, and starter kits.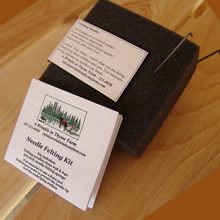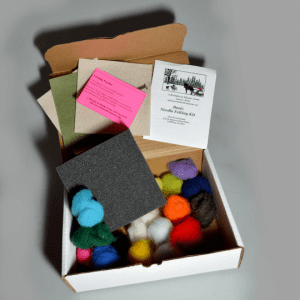 ~The basic includes two needles and a 5×5 sponge.
~The large includes two needles and a 10×10 sponge.
~The starter includes 2 needles, a 5×5 sponge, 16 colors of roving, and three felt squares to design your own projects.
We also carry Get A Grip needles with molded, color coded handles in spiral doubles (two needles fused together work twice as fast).   A "combo" set of needles, also color coded offers a chance to try out different types of needles.

Pocket bags are knitted with wool yarn and then "fulled" in the washing machine with hot water (some people call this boiled wool). This causes the bag to shrink and become thicker and more durable. A Thyme Tile is made using needle felting and sewn onto the bag making unique and stylish shoulder bags.
Felting is one of the easiest and most forgiving uses of wool that you can do. Simple but fun, it doesn't require a lot of equipment or too much focused concentration. It's great for all ages, elders to kids.
Making something with wet felting is one of the oldest fiber techniques dating back as far as 6300 BC. Felt has been used as shelters (yurts), rugs, hats, and footwear.
~Wool felt protects against heat and insulates against cold.
~It absorbs and holds moisture and can be cut without fraying or unraveling.
One traditional way to create a felted object is by wet felting, rubbing soapy wet fibers together.  Friction-creating surfaces such as bubble wrap, bamboo blinds, and washing machines speed up the process. You can also wet felt a knitted object that is 100% wool by washing it.  My favorite work with wet felting is making a background for needle felting.  You can also make wet felted vessels, felted soaps, scarves, and more.