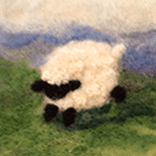 The farm store specializes in natural and hand-dyed yarn and woolen items using fiber from our own sheep. We offer a wide variety of fiber and food products seasonally. Visit our farm store or our online shop or Bethel Farmer's Market to support us. We also sell at Fiber Frolic in June, Common Ground Fair in September and Fryeburg Fair in October. Fiber products include yarn, roving, batts, fleece, needle felting kits, and knitted items. Food products include lamb sausage, maple syrup, local honey and eggs.
Processing the Wool
Our incredibly soft sheep's wool can be purchased as raw wool, roving, batts, or yarn, or needle felting supplies.
Shearing here at the farm usually happens about every 8 months. We have a professional shearer do all the sheep in one day. Next step is skirting the wool to remove vegetation, manure, and felted bits of fleece. The best fleeces are then washed and air dried. Finally we send it out either to be made into roving or yarn. After this it can be dyed with acid dyes or plants and weeds.
We acquired an antique Patrick Green Cottage Industry carder which is used to make 8 ounce batts. Our goal is to dye wool with plants and weeds and then card it into batts to spin.
In our store look for tags with the sheep's pictures and names identifying the fiber grown by our own sheep. Besides wool, other natural fibers including angora bunny, alpaca, and bamboo, are selectively purchased from several neighboring Maine farms.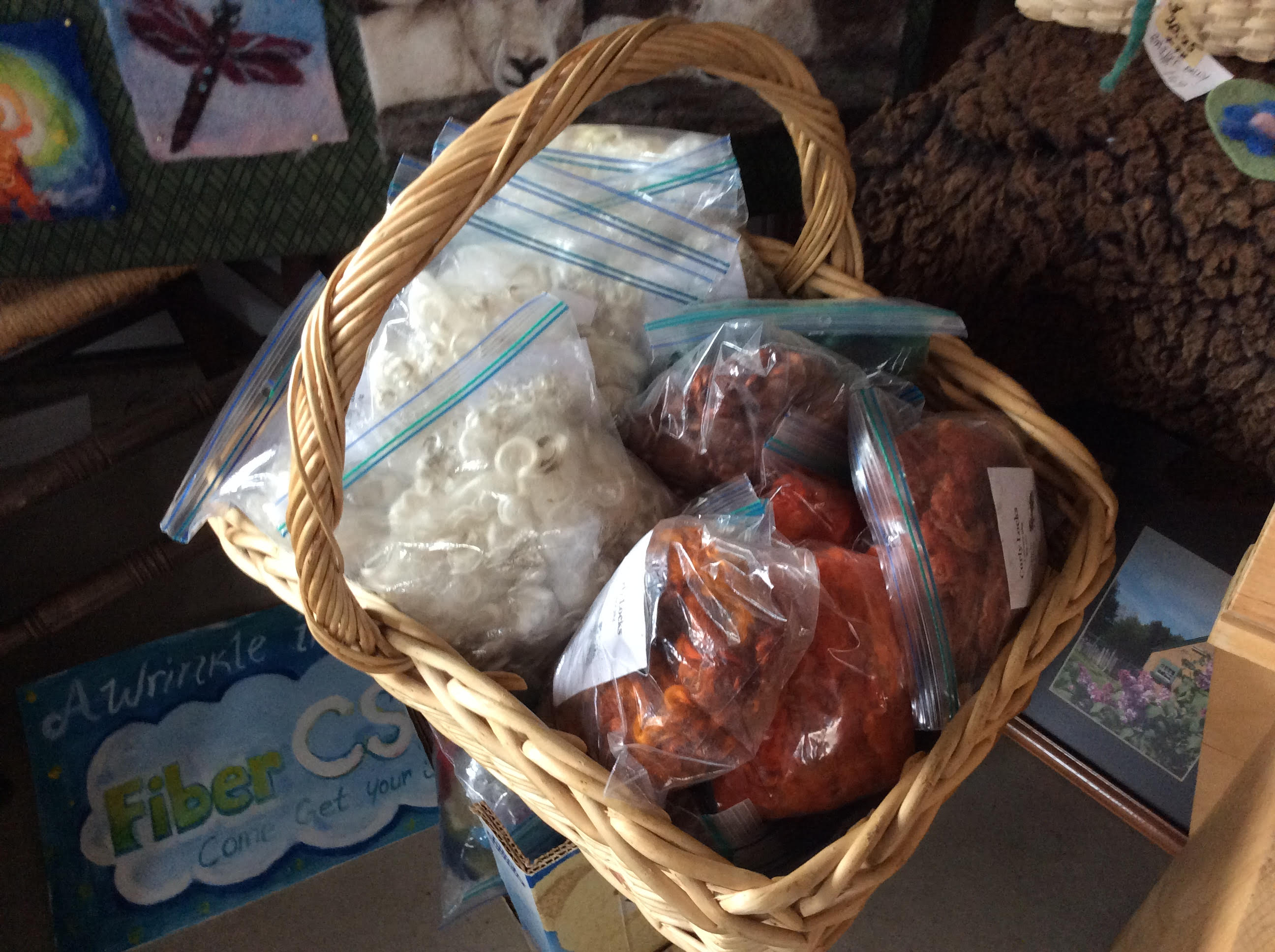 We purchase clean, healthy fiber from people we know love and take good care of their animals. It is washed and dyed here, processed to roving in Maine. Needle felted art, felted garments, knitted hats and mittens, wool roving, and a wide variety of hand dyed yarn are inspiration for our visitors to see. Some lovely creations are made by CSA members and local knitters and are available for sale on consignment.
Dying
Marty remembers her grandmother dyeing wool for rug hooking on the wood stove with Cushing dyes in the 1940s. She now provides unique hand dyed yarns, blended batts, and roving for spinners are dyed in small lots (4-12 ounces) in a crockpot, 16 quart kettle, or hand painted using Cushing Dyes.
Transition yarn starts with one color, transitions through other colors, and ends with a totally different color in 200 yards. This yarn is perfect for socks and shawls.
In summer, yarn is dyed with plants and weeds. We grow a dyers' garden with indigo, marigolds, amaranth, dyers coreopsis and more. From the pasture edges, we gather black eyed susans, jewel weed, and goldenrod. If you are interested in learning to dye wool, spin, knit, needle felt, or raise your own sheep, click here to see our upcoming classes.
If you can't shop in person, some of our products are available in our Wrinkle in Thyme online shop.
Spinning
We carry Louet spinning wheels. Louet wheels have been carefully engineered to be easy-to-use, durable, low-maintenance and practical. By using different bobbins and flyers, Louet wheels can be used to produce every kind of yarn, from bulky wool to fine yarn. It's been our experience that beginner spinners are the most successful with Louet wheels.
We are happy to work with you to learn how to spin yarn, set you up with all the fiber you could want, and order you a new wheel as well as accessories. We have a small fleet of rental wheels to use as you learn.
We also have one used beautiful Ashford Elizabeth spinning wheel available as well as an Ashford Traditional spinning wheel.
Maine Made Maple Syrup
Most of our taps are single buckets and we have, Willie, a utility vehicle on tracks to bring in the sap around the fields. We use some tubing to carry sap to larger buckets where there are clusters of trees.
We have a 2′ x 5′ wood-fired evaporator. The wood for the evaporator comes from cleaning up after reclaiming pasture and trees that blow down.
Join us for Maine Maple Weekend, the fourth weekend in March. We enjoy visiting with the families who come year after year to see new lambs and learn what has been happening at the farm.
A WRINKLE IN THYME FARM COVID POLICY
In order to manage the number of people at the farm at one time, please make an appointment to help us avoid transmission of the COVID virus. We ask that visitors let us know if you are not fully vaccinated and boosted. If you are not vaccinated, we ask that you wear a mask and maintain 6 foot social distancing.
---
About the Artist of the Maple Leaf
On a visit in maple season in 2011, Nel admired the workmanship of the shack door, which features a maple leaf cutout. Nel proceeded to design and create a stained glass maple leaf overlay to complement and decorate the door, now permanently mounted to the interior. Thank you both, Nel and Denise for your generous contributions to the farm.
---
Things to Know
Payments may be made securely through PayPal. You do not need to have a PayPal account to make payments. Our online shop accepts multiple payment types.
Personal checks will be processed before your order is sent.
You order will usually be shipped within a week. We will try to notify you if a delay is anticipated.
We ship by the most cost effective USPS Mail.
We often recycle boxes in accordance with our reduce, reuse philosophy.
Postal insurance is not included.
Store hours – please call ahead – (207) 212-4058
Friday-Tuesday 10-4
Tuesday 6:30-8:30
And by appointment
---
Can't make it to the farm Store?
No problem, visit our online shop!