The farm store specializes in natural and hand-dyed yarn and woolen items using fiber from our own sheep.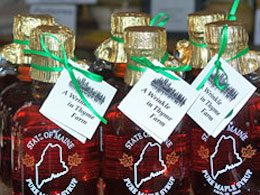 Maple syrup, maple sausage, and eggs are also available for sale.  Products ordered by phone or email and through our Etsy store.
In our store look for tags with the sheep's pictures and names identifying the fiber grown by our own sheep. Besides wool, other natural fibers including angora bunny, alpaca, and llama are selectively purchased from several neighboring Maine farms.
We purchase clean, healthy fiber from people we know love and take good care of their animals. We also purchase some raw fiber for needle felting.  It is washed and dyed here, processed to roving in Maine. Needle felted art, felted garments, knitted hats and mittens, wool roving, and a wide variety of hand dyed yarn are inspiration for our visitors to see. Some lovely creations are made by CSA members and local knitters and are available for sale on consignment.
Dying
Unique hand dyed yarns, blended batts, and roving for spinners are dyed in small lots (4-8 ounces) in a crockpot, 16 quart kettle, or hand painted using Cushing Dyes.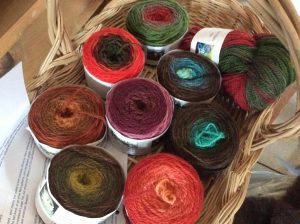 Transition yarn starts with one color, transitions through other colors, and ends with a totally different color in 200 yards.
Marty remembers her grandmother dyeing wool for rug hooking on the wood stove with Cushing dyes in the 1940s.
In summer, yarn is dyed with plants and weeds. We grow a dyers' garden with indigo, marigolds, amaranth, dyers coreopsis and more. From the pasture edges, we gather black eyed susans, jewel weed, and goldenrod.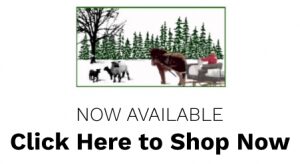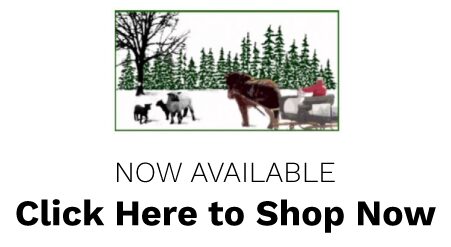 If you are interested in learning to dye wool, spin, knit, needle felt, or raise your own sheep, click here to see our upcoming classes.
If you can't shop in person, some of our products are available in our Wrinkle in Thyme online shop.
Things to Know
Payments may be made securely through PayPal. You do not need to have a PayPal account to make payments. Our online shop accepts multiple payment types.
Personal checks will be processed before your order is sent.
You order will usually be shipped within a week.  We will try to notify you if a delay is anticipated.
We ship by the most cost effective USPS Mail.
We often recycle boxes in accordance with our reduce, reuse philosophy.
Postal insurance is not included.