Class & Workshop Policies: We can schedule a class for your group of three or more or a lesson for you at a mutually agreeable time.  Young children are welcome and need to be accompanied by parent.
PLEASE, WEAR A MASK  and maintain a 6 foot distance  due to Covid 19 restrictions. Let us know if you have been fully vaccinated.
Payment, Cancellation and Refund Policy: non-refundable deposit or full payment for the class holds your place and helps us plan. We will refund if we can fill your spot with another participant. If you need to cancel or change any classes, please send an e-mail with the specific changes you'd like to make to info@awrinkleinthymefarm.com. Class fees will be refunded if and when your place is filled from a wait list for that class or event.
Basic Needle Felting
Classes by Appointment, group of 3 or more;      Contact Marty to set up a date. – 207-212-4058
Click on the video on the home page for brief needle felting instructions. Please register here & call 212-4058 or email for more information.
Description: Incredibly easy using special felting needles.
Relaxing, therapeutic, and very portable. Designed for the beginner to the advanced. Come and enjoy an afternoon with Marty and explore a relatively new art form.
Class fee:$30.00 per person includes materials.
Felting Fridays
Twice a month, Call for schedule
207-212-4058
1 PM to 3 PM
Great for beginners as well as inspiration for seasoned felters! Complete a Thyme Tile, start to finish, or bring your own project.  To see Thyme Tile images go to our Shopify store.
Bring your tools or use ours.
$30 includes fiber materials.
Please register here.
Color Play Dyeing
Date: To be announced
9 AM to 4 PM
Learn to dye wool with acid dyes creating a rainbow of colors. $90 fee. Includes one skein of yarn or 3 ounces of roving. We will have more yarn  available for purchase at $12 per skein and roving at $3.00 per ounce. Bring a bag lunch.  Interested?
Please register here.
Natural Dyeing at the Farm
Learn to dye wool with plants and weeds including indigo, marigolds, and madder root. 
$75. Please bring 4-6 oz of natural fiber of your own to dye if you like. We will have wool skeins for you to dye. Bring a bag lunch.  Please register here.
Landscape Felting

Part I, Wet Felting by appointment before  two hour session, $30 fee includes materials. 
This art form involves melding together colorful wool fibers into a wool base using hot water, a bit of soap, and a hand sander (without the sandpaper). This base, once dry, can be used as a background for an artful creation. Bring one or more images to guide your color selection. During part one, we will make the background.     Please register here.
Landscape Felting
Part II, TO be announced, 10 AM to 2 PM, $60 includes materials: Needle Felting
We will embellish your background with needle felted colorful detail.  Take either one or both parts – if only doing part two, let Marty know you would like to purchase a background to needle felt.
Fee: $45.00 per person includes materials – please register here.
Portrait of Ewe Class
To be announced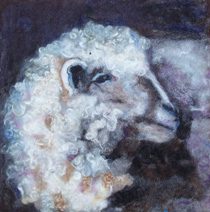 This class will guide you through the creation of a needle felted portrait of one of our sheep.  The final product is suitable for framing.  $60 includes fiber materials – needle felting tools available for purchase separately or bring your own.  Bring a bag lunch.  Register here.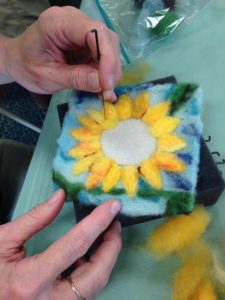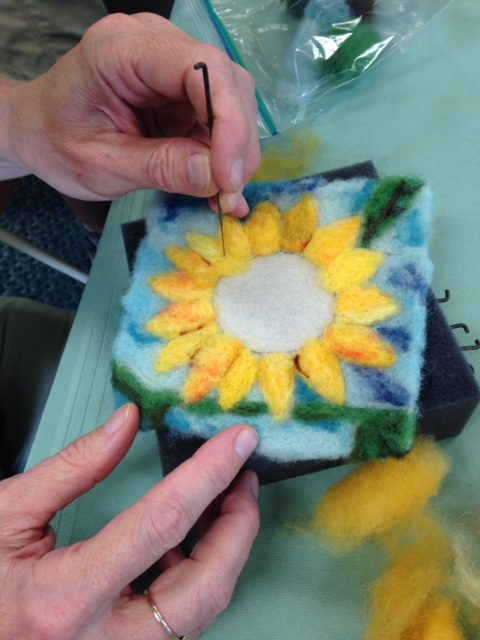 Beginner Spinning Classes 
Scheduled with individual participant at a mutually convenient time.

Learn the basics of spinning, rent a wheel and practice at home. Come back to learn to ply when you have two bobbins full.   Student wheels available for rent at $10.00 per week or $35.00 per month. Deposit required. Contact us to schedule a day & time.
Description: Suitable for ages 6 and up. Beginning to spin can be easy for some, tricky for others. Marty has figured out ways to get individuals started on a wheel by breaking it down into individual steps. First train your feet, then your hands, and put it all together.
For continued support, we will connect you with a group that can offer you much more. By appointment as scheduled for individuals (allow up to 2 hours). Contact us to arrange a time. $20.00 per hour (usually 2 hours) plus you purchase roving or batts to spin (about $10.00).