Welcome
It started with the animals…
We wanted to keep the rocky fields from growing into woods and the neighbor said sheep would do a good job.
Soon we had a flock of sheep and lambs.
Our pastures now have an abundance of green lush grass that the animals graze all summer.
Then we had more than 3 bags full of wool. What to do?
We learned to wash wool, card, spin, needle felt and weave our incredibly soft home grown wool and provide it to others who share our passion for fiber arts.
We stay connected to the animals and our environment, enjoy an outlet for creativity, and keep ourselves and others warm and comfortable when the Maine winter winds blow.
A Wrinkle in Thyme Farm is a women-owned and operated, small, diversified farm using organic practices in the foothills of the western mountains of Maine. Moving to Maine from Illinois in 1995, we, Mary Ann and Marty, came seeking 100 acres of wooded land for the purpose of building a log cabin with no intentions of farming. As luck would have it, we settled into our 1850s farmhouse, surrounded by 32 acres of fields, woods, and apple orchard.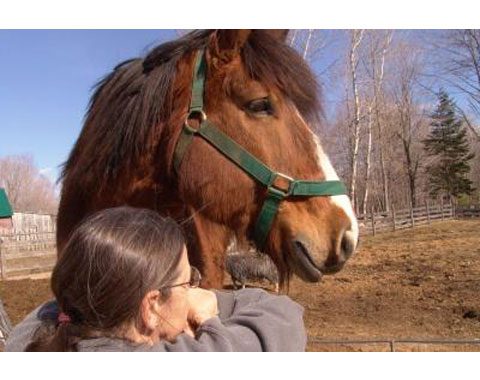 Building the Farm over Thyme
After we acquired a small flock of sheep and purchased the draft horse, we decided we needed a barn, so with the help of a neighbor we built a 36×48 foot timber frame barn in 2003, complete with a barn swing for the grandchildren and a hay loft.We applied for and received a "Farms for the Future" grant that made it possible to build a sugar house, pole barn, and Tesseract Fiber Building. With the help of good friends, Mary Ann built a sugar house in 2011, just in time for the maple season. We produce a significant quantity of maple syrup each year using about 400 taps and our wood-fired evaporator. We worked our draft horse to collect sap and firewood until he retired. In December, 2021 he was laid to rest.
Addition of a pole barn with a sheep feeding station for hay and grain in the cold seasons of the year made it possible to increase the size of our flock of sheep for fiber. The pole barn is also used for equipment storage so that the timber frame barn is available for lambing. The ewe lambs are improving fleece quality. Ram lambs are sold for breeding and, when necessary, they provide meat and pelts. Now we are cutting back on the number of sheep and lambs and purchase fleece from other farms who love their animals.
Farming allows us work at our own pace though often we have more than enough to do. To round out our diversified farm and increase our self-sufficiency, we keep laying hens for eggs, grow broilers, and grow vegetables, blueberries, and a few herbs for ourselves and a few friends.
We enjoy fiber arts and creative expression amidst the daily and seasonal rhythms of our small, diversified farm.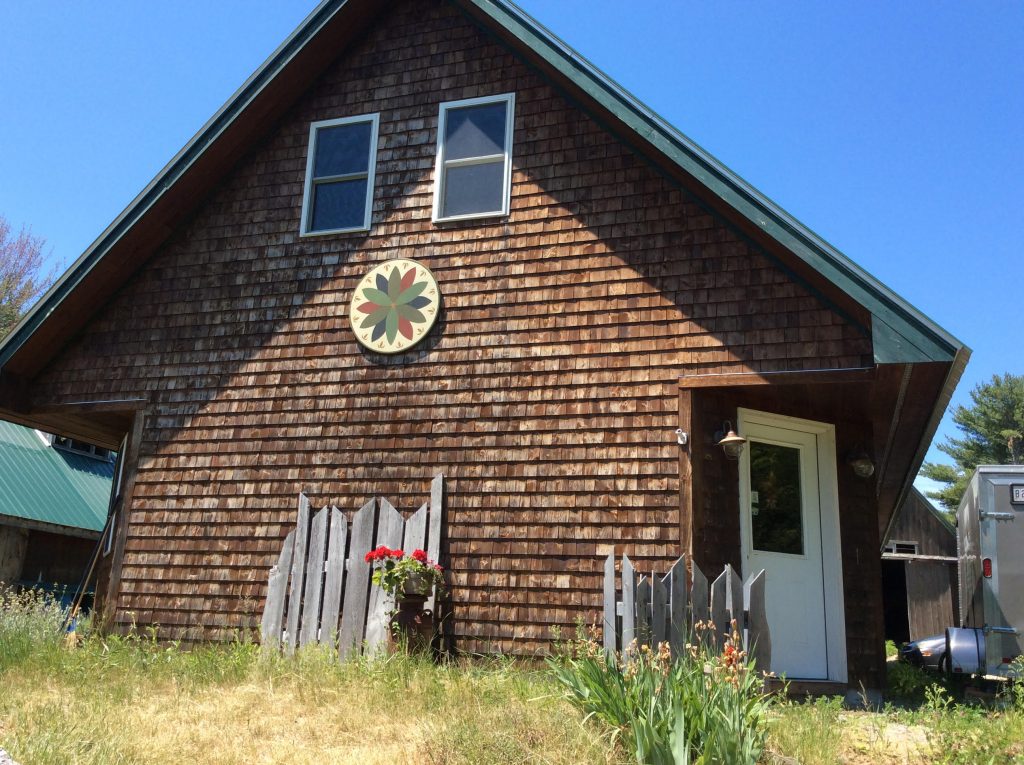 The Tesseract Fiber Building and Learning Center opened in 2010 to provide a space in which to expand our community. This building includes a farm store, a dye kitchen, a gathering and learning space, and equipment for washing, picking and carding wool.
The hex sign on the front of the building was donated to us by Ute Simons, and symbolizes abundance and joy. The Maine-based artist is Virginia Stoltenborg. To see more of her work, check out her website.
We are grateful for the community of people who who gather weekly to knit beautiful wool projects and enjoy fiber art. We were the first farm in Maine to offer Fiber CSA Shares! The local members of our CSA are also willing workers that contribute their time and talents throughout the year.
We seek to live simply and nurture our connections with family, community and the earth. We produce high-quality food, help to build a successful rural economy, and experience a healthy life. We value collaboration and integrity. We share a passion for spending time with nature in the woods and fiber arts.
Sustainability and Resilience
Sustainability is based on a simple principle: everything that we need for our survival and well-being depends, either directly or indirectly, on our natural environment. Sustainability creates and maintains the conditions under which humans and nature can exist in productive harmony and permit fulfilling the social, economic and other requirements of present and future generations. Resilience is the ability to adapt to the needs of the environment and maintain health and well being of the earth. Our goal is to maintain A Wrinkle in Thyme Farm for the benefit of our children, grandchildren and generations beyond. Our view of sustainability is an ethical principle that involves:
Energy Conservation & More
We seek to reduce our carbon footprint and dependence on fossil fuels. Our biggest energy use is the propane used to heat the water required to wash our fiber. It takes more than 40 gallons of 140° water to wash five pounds of wool. In 2010 we designed our Tesseract Fiber Building and Learning Center to use a solar thermal hot water system and a radiant floor. This uses the sun to preheat the water before it goes into our propane-assisted 200-gallon storage tank. In the summer, we are able to heat nearly all of our water using the sun. Even in the darkest part of winter, we still get a significant boost from solar.
In 2019 we added 39 solar panels which power the whole farm during spring, summer and fall. Credits are stored and used in winter.
Organic
Our 1940s little Farmall Cub Tractor is used to spread manure from the barn to improve the quality of the fields. Most people are aware that organically-grown food is free from exposure to harmful chemicals, but that is only one small part of what organic is about. A larger part of organic agriculture involves the health of the soil and of the ecosystems in which crops and livestock are raised. Chicken manure, sheep and horse manure and sheep belly wool are used to nourish our soils. We use organic practices though we choose not to be certified.
The Earth Oven
In 2012, we built an earth oven with the help of our neighbor, Randy. Mary Ann, her daughter Jess, and partner Iver built the stone base. A group of energetic friends together with family members completed the process of blending sand with clay from the frog pond in Danville where Marty grew up. The outer layer went up the next day with a similar process with the addition of straw to the clay mixture. We enjoy pizza and bread made in the oven.
A WRINKLE IN THYME FARM COVID POLICY
In order to manage the number of people at the farm at one time, please make an appointment to help us avoid transmission of the COVID virus. We ask that visitors let us know if you are not fully vaccinated and boosted. If you are not vaccinated, we ask that you wear a mask and maintain 6 foot social distancing.
---