April at the Farm
by Marty

Posted on

April 15, 2018
Learn to Weave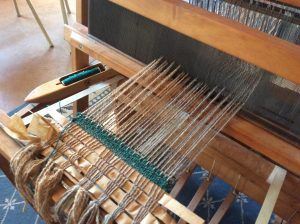 A group of us met at the farm last Thursday with Mary Ann and Dorothy Hinshaw leading the group on learning how to warp a loom.  We did it once!  And now the loom is in the Tesseract with materials for weaving a table runner.  You are invited to come see our progress and try your hand at weaving a bit.  The group plans to meet twice a month, 2nd and 4th Thursdays. We will go home to home to help dress looms.  Next gathering will be April 12th, 9am – 1pm, Pot Luck.  If you have a portable loom bring it along.  If not, try one of ours
Fair Isle Knitting with Lesley Fowler
All Wednesdays thru April  6pm to 9pm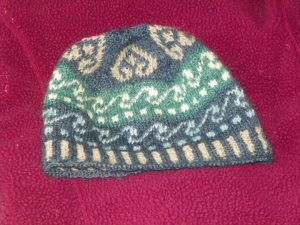 Learn the techniques needed for Fair Isle Knitting.  Lesley will lead us through the creation of an incredible Fair Isle Cowl or Hat. Open to helping you finish and unfinished project also.  Bring small balls of various colors of sport weight or light worsted weight yarn to share if you have it.   $10.00 per class.
Farm Spinning
Wednesday, May 16
10 am to 2 pm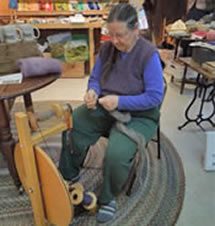 Louet has a SPECIAL DEAL for purchase of a new Louet S17 wheel.  Buy a wheel for $425 plus shipping.  The wheel comes unassembled and unfinished.  Paint an attractive design on your wheel and send a picture to Louet and you will earn $200. worth of fiber to spin.  Let Marty know if you are interested.
Bring your wheel, and join us for a free spinning group and potluck lunch.  If you know of anyone who wants to learn to spin, this is a great opportunity to give it a try.  Louet rental wheels available for $32.00 a month.
Felting Fridays
May 4 and June 81-3 pm
Great for beginners as well as inspiration for seasoned felters! Make a Thyme Tile, start to finish, or bring your own project. We will be working on a ladyslipper flower in May, and a hummingbird in June. Bring your tools or use ours.  Please let us know if you are planning to attend. $30 includes fiber materials.
Dyeing Wool Weekend
10 am Sat to 1 pm Sunday save the dates:    May 19 & 20,
Dyeing Wool is easy and fun! This hands on workshop offers instructions for several methods of applying Cushing's Dyes, samples and recipes, dyes and tools.  Bring 4-8 ounces of white or light colored wool, alpaca, silk, roving or yarn to dye, or purchase here.    $200.  $50.00 deposit required.
Learn to Weave A group of us met at the farm last Thursday with Mary Ann and Dorothy Hinshaw leading the group on learning how to warp a loom.  We did it once!  And now the loom is in the Tesseract with materials for weaving a table runner.  You are invited to come see our…