March at the Farm
by Marty

Posted on

March 2, 2017
Felting Friday
Friday, March 10 and April 7
1 to 3 pm
Great for beginners as well as inspiration for seasoned felters!
Make a Thyme Tile, start to finish, or bring your own project.  In March, we will be felting Collecting Sap.  In April, we will do a whimsical cat.  Bring your tools or use ours.  Please let us know if you are planning to attend. $30 includes fiber materials.
Farm Spinning
Wednesday, March 15 and April 19
10 to 2 pm
Bring your wheel (or knitting) and join us for a free spinning group and potluck lunch. I believe this is the BEST way to improve your skills and enjoy the day. And if you already know how to spin well, join us and share. Questions?  Send me an email.
Roving available to purchase in the farm store.
  Learn to Knit
   At MSAD Adult Education
with Marty Elkin
Make your first hat, four Thursdays: March 16 – April 6, 5-8 pm each night.  $45 for the class and $25 for materials.
Knit your first pair of socks, four Thursdays: April 27 – May 18.  $45 for the class and $30 for materials.
All classes take place at the Adult Learning Center in Turner.  More information here.
Toe-Up Socks
with Laura Freeman
March 22, March 29, and April 5, 6-8 pm
Stop stressing about knitting socks. Try them on as you go and get the perfect fit every time. Join this fun class to make it possible. You will learn a method that makes two socks at a time, from the toe up, using the magic loop method. Bring two skeins of worsted weight yarn (about 200 yards each) and a size 7 or 8 circular needle at least 36" long.  Let Marty know ahead of time if you would like to order needles. This intermediate knitting class meets on three consecutive Wednesday nights March 22 & 29, and April 5 from 6 to 8 pm. $65 for all three lessons.  Register here.
Maine Maple Weekend
March 25 AND 26
Pancake breakfast 8-11 am BOTH DAYS. Lamb sausage, sap tea and sap coffee available.  Sheep's milk ice cream samples available from The Friendly Ewe. Farm open until 4 pm both days. Lambs in the barn, tours of sugar house with wood-fired evaporator. Shop in the yarn store. Kid-friendly.
Felting Retreat
April 21-23
Friday evening through Sunday noon
Lodging and meals provided at A Wrinkle In Thyme Farm, leaving you plenty of time to become absorbed in several felting projects, either needle felting or wet felting.  The farm store is full of inspiration and materials.  Share skills and meet the lambs that grow the wool we use to felt. $250 for the weekend, with a $40 deposit required to hold your place.  Register here or email for more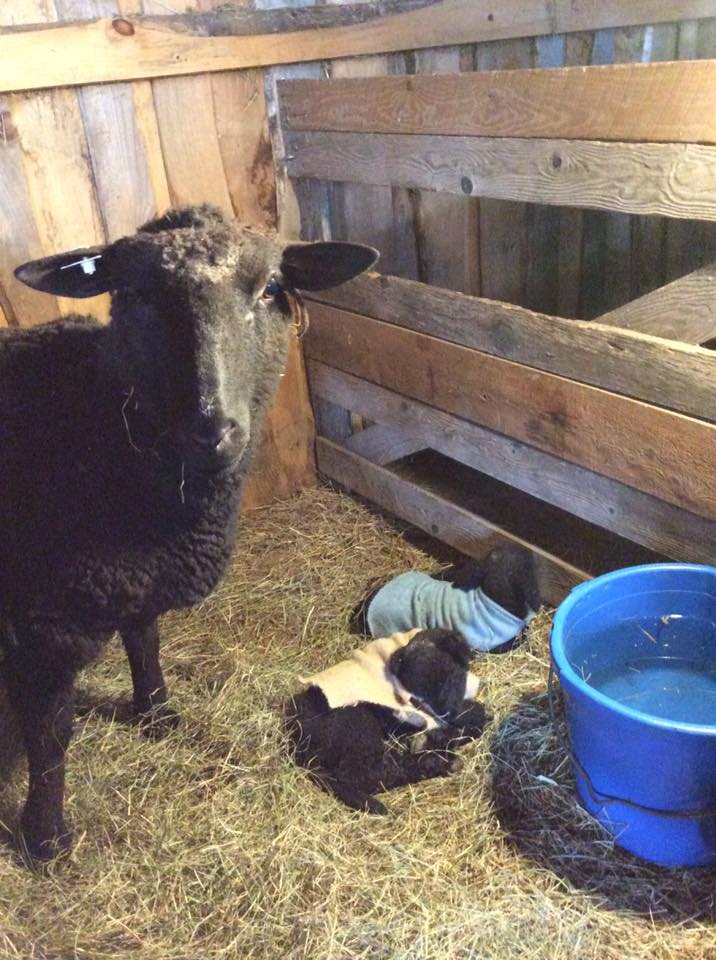 information.
Elsa with her two new lambs – first-time mother doing a great job!
Felting Friday Friday, March 10 and April 7 1 to 3 pm Great for beginners as well as inspiration for seasoned felters! Make a Thyme Tile, start to finish, or bring your own project.  In March, we will be felting Collecting Sap.  In April, we will do a whimsical cat.  Bring your tools or use ours.…