Fiber Preparation Tools for Sale
by Marty

Posted on

July 16, 2020
We have fiber preparation tools on consignment from a friend that are for almost every step of the fiber preparation process, from carding to spinning to skeining. We have several pairs of handcards. Handcards make rolags, punis, or small batts. Some people make handcarded rolags for spinning with a long draw and find them great for this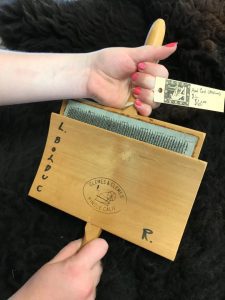 purpose. We also have a like-new drum carder, which is a Louet Junior. Drum carders are ideal for carding larger amounts of wool, blending colors and blending fibers. This prep is suited for making lofty and bouncy yarns.
We also have combs for preparing top and a hackle to blend and align fibers and remove shorter fibers from second cuts. To create a top, the fiber is drawn off the combs with a diz, but you can also draw it off without a diz, using your hands, or even spin directly off of the comb. Combs are also fantastic for removing vegetable matter. This fiber prep is suited to making a smooth yarn emphasizing luster and shine.
We also have several beautiful older wheels available. We have an Ashford "Elizabeth" wheel with four bobbins. The Elizabeth is a double drive wheel that produces a fine, firm-twist yarn particularly suited for fine wools and exotic fibers. One adjustment controls both drive band and bobbin take-up. Easily converted to single drive or bobbin lead. The treadle is pivoted for a comfortable heel-toe action. We also have a horizontal lazy kate that would pair nicely with this wheel.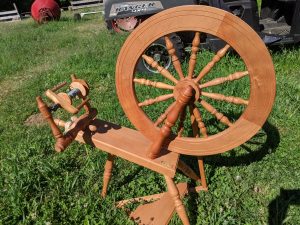 We also have an Ashford Traveller, frequently called "the Classic Castle Wheel".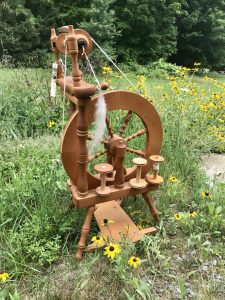 This wheel is suitable for a wide variety of spinners and is nicely compact, designed to fit in the trunk of most cars, perfect for taking to workshops or gatherings. It also has four bobbins.
Our third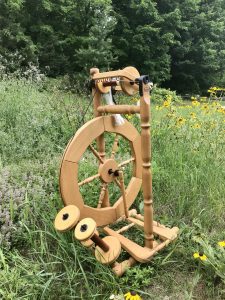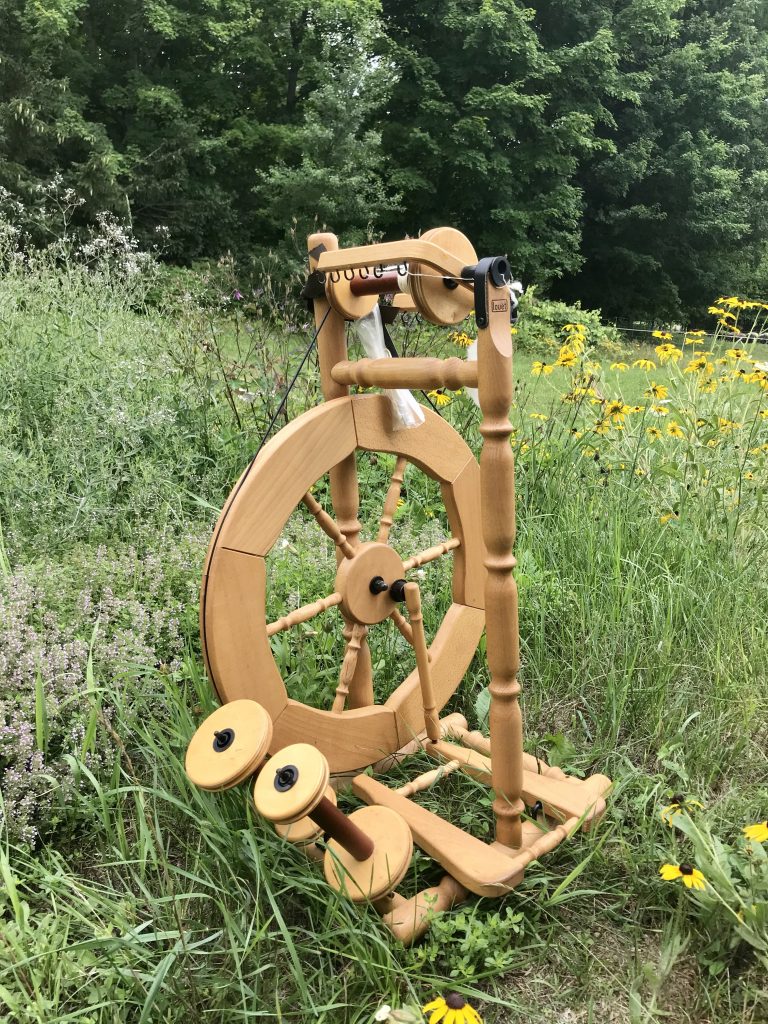 wheel is a lovely older Louet with spokes on the wheel. It is a discontinued model so we were unable to find the exact specifications. However, we have had great experiences with Louet wheels. Easy to spin, comfortable to use and very affordable.
We have a drop spindle and a lap spindle as well for those interested in beginning to spin.
We have several niddy-noddies available in various sizes and two floor stand skein-winders.
If you are interested in any of these items, please e-mail us at fiberthyme@gmail.com
We have fiber preparation tools on consignment from a friend that are for almost every step of the fiber preparation process, from carding to spinning to skeining. We have several pairs of handcards. Handcards make rolags, punis, or small batts. Some people make handcarded rolags for spinning with a long draw and find them great…