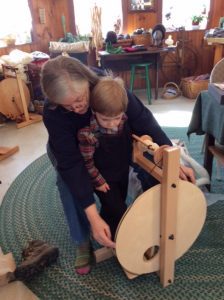 We carry Louet spinning wheels.  Louet wheels have been carefully engineered to be easy-to-use, durable, low-maintenance and practical. By using different bobbins and flyers, Louet wheels can be used to produce every kind of yarn, from bulky wool to fine yarn. It's been our experience that beginner spinners are the most successful with Louet wheels.
Currently there is a special promotion for people who buy a S17 Louet Spinning wheel, which comes unfinished and unassembled.  If you buy the wheel and decorate the wheel with your original design, take a photo and send it to the company, and you will receive $200.  in fiber to spin.
We are happy to work with you to teach you to spin, set you up with all the fiber you could want, and order your new wheel as well as accessories. We have a small fleet of rental wheels to use as you  learn, available for $32.00 per month.
We also have a few antique wheels available for sale.