Thyme Tiles Kits make learning to needle felt fun, and offer needle felters designs for a variety of uses. We have many designs, and each kit has a hand drawn picture on 100% wool felt and all the colors of unspun wool needed to complete that design. The completed project can be used as a coaster, a framed piece of art, or a pocket on a knitted garment of bag.
We are expanding to include larger sized kits.
Pocket bags are knitted with wool yarn and then "fulled" in the washing machine with hot water (some people call this boiled wool). This causes the bag to shrink and become thicker and more durable. A Thyme Tile is made using needle felting and sewn onto the bag making unique and stylish shoulder bags.
Supplies For Needle Felting are available in the farm store and at our Etsy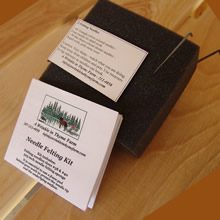 store.  We offer a palette of individual roving balls in a range of colors. We also offer 100% wool felt in various sizes for creating your own designs. Tools for needle felting include basic needle felting kits, large needle felting kits, and starter kits.  The basic includes two needles and a 5×5 sponge.  The large includes two needles and a 10×10 sponge.  The starter includes 2 needles, a 5×5 sponge, 16 colors of roving, and three felt squares to design your own projects.
Click here to see upcoming needle felting classes at the farm.