Friday 5 pm through Sunday noon     Why not join us?
Wendy Youmans, KYT offers yoga classes for a deeply relaxing experience…
Includes:
Four Gentle  Yoga classes designed for everyone
& ample time to spend as you like!                                                                                              Abundant time for your favorite art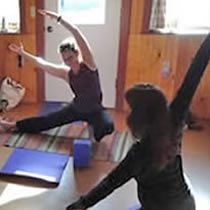 Lodging at A Wrinkle in Thyme Farm,                           Local food for delicious home-cooked meals
To register and for information about lodging & meals contact us at
info@awrinkleinthymefarm.com or (207) 212-4058. A non-refundable $40 deposit required to hold your spot. Total cost of the weekend is $250.
For yoga questions please contact Wendy Youmans, certified Kripalu Yoga Teacher at yogawendy@gmail.com or call (207) 540-4602.